---
Geothermal Heat Pump Market Overview :
Global Geothermal Heat Pump Market is estimated to reach $174 billion by 2025; growing at a CAGR of 8.9% from 2017 to 2025.Geothermal heat pump (GHPs), is a central heating/cooling system that exchanges heat to or from the ground. They use the uniform temperature of the earth as the transfer medium, instead of the outside air temperature. They are sometimes referred to as geo exchange, ground-source, earth-coupled, or water-source heat pump. Geothermal heat pumps technology is gaining improved adoption across commercial and residential buildings, since they are considered as feasible technology in sustainable heating of homes. This technology has been keeping consumers comfortable for more than five decades and can cut energy bills by up to 65% compared to traditional HVAC units.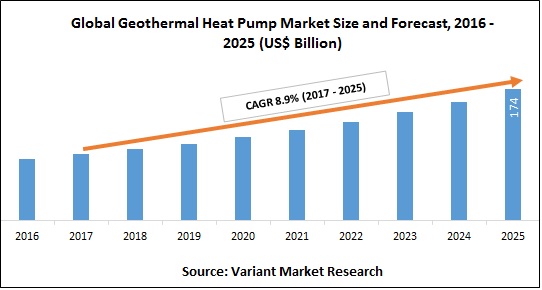 Growing demand for cost effective and efficient space conditioning system from residential & commercial spaces and mounting prices of oil & electricity globally are the major factors driving the growth of the global geothermal heat pump market. However, the market consists of certain restraints such as high initial investment, and high installation cost. Favorable government initiatives to encourage the adoption of renewable energy, and technological advancement in the GHPs are expected to present potential growth opportunities over the forecast timeframe.
Product, application, and geography are the major bifurcations considered in the global geothermal heat pump market. The product segment is further bifurcated into open loop, and closed loop. Closed loop comprises vertical and horizontal.The segmentation by application includes residential, and commercial. Commercial comprises government center, educational institute, and office buildings.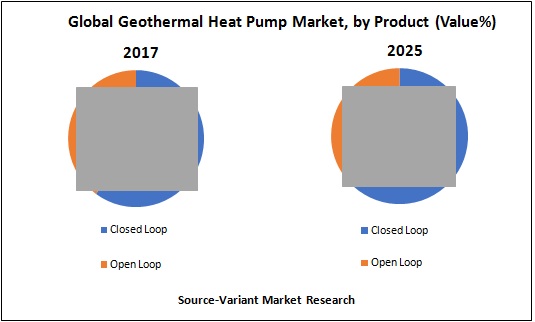 Based on geography, geothermal heat pump market is segmented into North America, Europe, Asia-Pacific, and Rest of the World (RoW). North America is further bifurcated in U.S. and Canadawhereas Europe consists of Germany, UK, France, Sweden, Finland, Austria, Netherland, and Rest of Europe. Asia-Pacific is segmented into China, India, Japan, Switzerland, SouthKorea, New Zealand, and Rest of Asia-Pacific while RoW is bifurcated into South America, Middle East, and Africa.
The major players operating in the global market include Robert Bosch GmbH, MODINE MANUFACTURING COMPANY, Carrier Corporation, Danfoss Group, Bryant Heating & Cooling Systems, Kensa Heat Pumps, CLIMATEMASTER, INC., Trane, EarthLinked Technologies, Inc., and Finn Geotherm, among others.
The key takeaways from the report
The report will provide detailed analysis of Global Geothermal Heat Pump Market with respect to major segments such as product, application, and geography
The report will include the qualitative and quantitative analysis with market estimation over 2016 – 2025 and compound annual growth rate (CAGR) between 2017 and 2025
Comprehensive analysis of market dynamics including factors and opportunities will be provided in the report
An exhaustive regional analysis of Global Geothermal Heat Pump Market has been included in the report
Profile of the key players in the Global Geothermal Heat Pump Market will be provided, which include key financials, product & services, new developments and business strategies
Scope of the Global Geothermal Heat Pump Market
Product Segments
Application Segments
Residential
Commercial

Government Center
Educational Institute
Office Buildings
Geographical Segments
North America
Europe

UK
Germany
France
Sweden
Finland
Austria
Netherland
Rest of Europe

Asia-Pacific

China
Switzerland
New Zealand
Japan
India
South Korea
Rest of Asia-Pacific

RoW

South America
Middle East
Africa
---
GET MORE INFORMATION ABOUT THIS REPORT
---
Related Report