---
Geothermal Power Market Overview :
Global Geothermal Power Market is estimated to reach $8,507 million by 2024; growing at a CAGR of 11.5% from 2016 to 2024. Geothermal power is the power created by geothermal energy. Geothermal energy is the heat produced from the Earth and is clean and sustainable. Technologies used in geothermal power includes flash steam power stations, binary cycle power stations, and dry steam power stations. Geothermal power is believed to be a renewable & sustainable source of energy as the heat extraction related with the Earth's heat content is less. Therefore, the requirement for electricity headed to the importance of geothermal-power as an engendering source is increasing.
Global Geothermal Power Market Size and Forecast, 2015 - 2024 (US$ Million)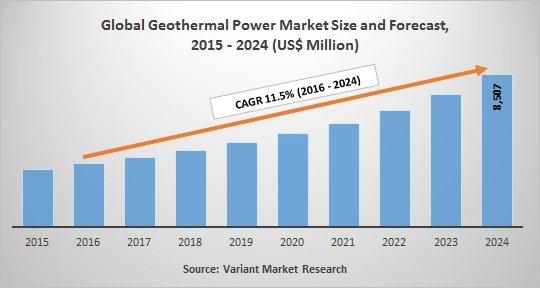 The global geothermal power market is mainly driven by rapid urbanization, industrialization, and growing manufacturing sectors in emerging economies. Also, growing importance for renewable electricity generation fuels the market growth. However, potential emissions, and surface instability are the factors of geothermal power that may decline the growth of the market. Moreover, government undertaken initiatives such as financial benefits and tax rebates to promote sustainable energy production are expected to generate numerous growth opportunities for the market in the upcoming years.
The global geothermal power market is mainly classified on the basis of technology type, and geography. By technology type the market is divided into dry steam, flash, binary, and other technology types. Further the market is segmented by flash into single flash, double flash, and triple flash.
Global Geothermal Power Market, by Technology Type 2016 Vs 2024

Based on geography, geothermal power market is segmented into North America, Europe, Asia-Pacific, and Rest of the World (RoW). North America is further bifurcated in U.S., Canada, and Mexico whereas Europe consist of Italy, Iceland, Turkey, Russia, Portugal, Germany, France, Austria, and Rest of Europe. Asia-Pacific is segmented into Philippines, Indonesia, New Zealand, Japan, Papua-New-Guinea, China, Australia, Thailand, and Rest of Asia-Pacific while RoW is bifurcated into South America, Middle East, and Africa.
Global geothermal power market Regional Revenue % (2016 Vs 2024)

The key players operating in the market are Mitsubishi Heavy Industries, Ltd., Ansaldo Energia, Toshiba Corporation, General Electric, Fuji Electric Co., LTD, Turboden, Calpine Corporation, Terra-Gen Power LLC, TAS Energy, and Ethos Energy Group Limited, among others.
The key takeaways from the report
The report will provide detailed analysis of Global Geothermal Power Market with respect to major segments such as technology type and geography
The report will include the qualitative and quantitative analysis with market estimation over 2015 – 2024 and compound annual growth rate (CAGR) between 2016 and 2024
Comprehensive analysis of market dynamics including factors and opportunities will be provided in the report
An exhaustive regional analysis of Global Geothermal Power Market has been included in the report
Profile of the key players in the Global Geothermal Power Market will be provided, which include key financials, product & services, new developments and business strategies
Scope of the Global Geothermal Power Market
Technology Type Segments
Dry Steam
Flash

Single Flash
Double Flash
Triple Flash
Binary
Other Technology Types
Geographical Segments
North America
Europe

Italy
Iceland
Turkey
Russia
Portugal
Germany
France
Austria
Rest of Europe

Asia-Pacific

Philippines
Indonesia
New Zealand
Japan
Papua-New-Guinea
China
Australia
Thailand
Rest of Asia-Pacific

RoW

South America
Middle East
Africa
Global Geothermal Power Market Primary Interviews by Geography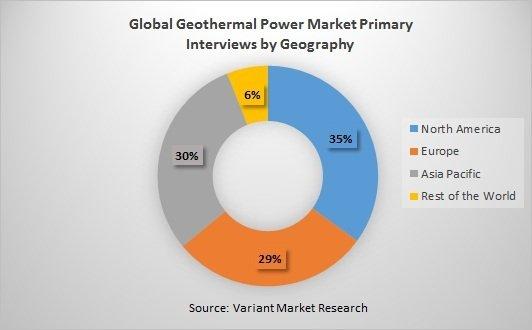 ---
GET MORE INFORMATION ABOUT THIS REPORT
---
Related Report