---
Global Mining Equipment Market is estimated to reach $167.7 Billion by 2024; growing at a CAGR of 6.9% from 2016 to 2024. Mining is the process of extracting coal, metals, oil, minerals, and water from the earth. Other valuable products such as diamond, gold, uranium, and ruined geological deposits are also being mined from the earth using various mining equipment. Some of the major mining equipment mostly used during the digging process include dozers, excavators, loaders, earthmovers, drills, dump trucks, graders, and scrapers. Rise in construction and real estate has increased mining activities throughout the globe, supplementing the demand for technologically advanced mining equipment.
Global Mining Equipment Market Size and Forecast, 2015 - 2024 (US$ Billion)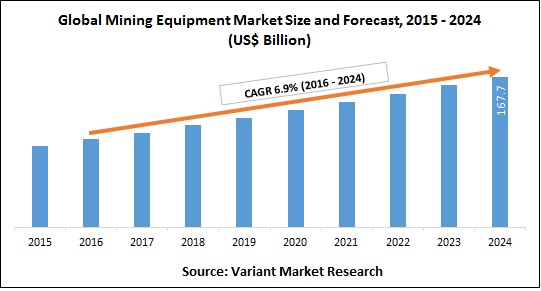 Rising demand for metal and mineral commodities, and increase in consumption of natural resources such as petroleum, diamonds, and gold, are the major factors driving the global mining equipment market. Moreover, increased demand for fertilizers in cultivation of crops has also fueled the market growth. However, high maintenance cost and strict government regulations would hamper the market growth. Increasing construction of road and railway tracks and fueling demand for coal in generating electricity would generate new business opportunities for the market in near future.
The mining equipment market is segmented by type, application and geography. By type, the market is bifurcated into mineral processing equipment, surface mining equipment, underground mining equipment, mining drills & breakers, crushing, pulverizing, & screening equipment, and others. In terms of application, the market is categorized into metal mining, mineral mining, and coal mining.
Global Mining Equipment market share by region, 2024 (value%)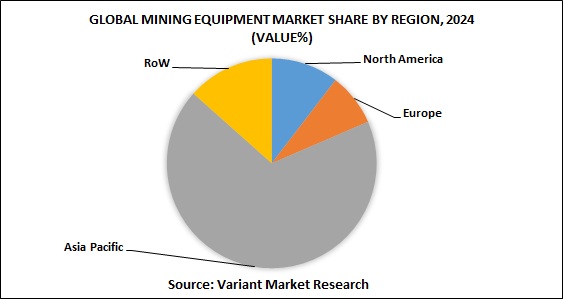 By geography, the market has been bifurcated into North America, Europe, Asia-Pacific, and Rest of the World (RoW). The U.S., Canada, and Mexico are covered under North America wherein Europe covers Western Europe, and Eastern Europe. Asia-Pacific covers China, India, and others. RoW covers Central and South America, and Middle East & Africa.
Major key players operating in the market are Metso, Komatsu Ltd., Caterpillar Inc., Sandvik, Joy Global, Atlas Copco, Hitachi Co. Ltd., AB Volvo, Liebherr Group, and Doosan Group, among others.
The key takeaways from the report
The report will provide a detailed analysis of Global Mining Equipment Market with respect to major segments such as type, and application
The report will include the qualitative and quantitative analysis with market estimation over 2015-2024 and compound annual growth rate (CAGR) between 2016 and 2024
Comprehensive analysis of market dynamics including factors and opportunities will be provided in the report
An exhaustive regional analysis of Global Mining Equipment Market from 2015 to 2024 has been included in the report
Profile of the key players in the Global Mining Equipment Market will be provided, which include key financials, product & services, new developments and business strategies
Scope of Mining Equipment Market
Type Segments
Mineral Processing Equipment
Surface Mining Equipment
Underground Mining Equipment
Mining Drills & Breakers
Crushing, Pulverizing, & Screening Equipment
Others
Application Segments
Metal Mining
Mineral Mining
Coal Mining
Geographical Segments
North America
Europe

Western Europe
Eastern Europe

Asia-Pacific
RoW

South America
Middle East & Africa
---
Related Report
Heat Exchanger Market (By Type: Shell and Tube, Plate & Frame, Air Cooled, Printed Circuit, and Other Types; By Application: Chemical, Petrochemicals and O&G;, HVAC & Refrigeration, Food and Beverages, Power Generation, and Other Applications; By Material: Steel and Non-Steel; By Geography: North America, Europe, Asia-Pacific and RoW) Global Scenario, Market Size, Outlook, Trend and Forecast, 2015 – 2024


- November 2017

Petroleum (Pet) Coke Market Global Scenario, Market Size, Outlook, Trend and Forecast, 2015 – 2024


- December 2017

Solar Control Films Market Global Scenario, Market Size, Outlook, Trend and Forecast, 2015 – 2024


- December 2017

Waste Heat Recovery System Market Global Scenario, Market Size, Outlook, Trend and Forecast, 2015 – 2024


- December 2017

Wind Tower Market Global Scenario, Market Size, Outlook, Trend and Forecast, 2015 – 2024


- December 2017