---
Global Natural Gas Liquids (NGLs) Market is estimated to reach 13,229 kilo barrels/day by 2024; growing at a CAGR of 6.8% from 2016 to 2024. Natural gas liquids namely propane, ethane, pentane plus, and butanes, among others are separated from the natural gas as liquids, through various procedures. These products are a good source of energy and is increasingly used in portable stoves, motor vehicles, laundries and other application areas. Growth in automotive sector has led to an increased demand for natural liquid gas majorly in the developing economies such China, Japan, and India. Various industrial sectors such as food industry, manufacturing industry, refineries, among others pose a huge demand for naturals gas liquids.
Global Natural Gas Liquids Market Size and Forecast,2015 - 2024 (Kilo Barrels/Day)

Increasing demand in refineries and petrochemical plants, coupled with rise in utilization of associated gas are the major factors driving the global natural gas liquids market. Moreover, replacement of wetter non-associated gas with traditional dry gas has also supplemented the growth of the market. However, high competition from other energy producing products such as bio gas, methane gas and others would act as a restraint for the market. Development in the infrastructure for NGLs would provide several growth opportunities for the market in the coming years.
The global natural gas liquids market has been segmented on the basis of product type and geography. By product type, the market is further segmented into ethane, propane, isobutene, and others.
Global natural gas liquids market share by region, 2024 (value%)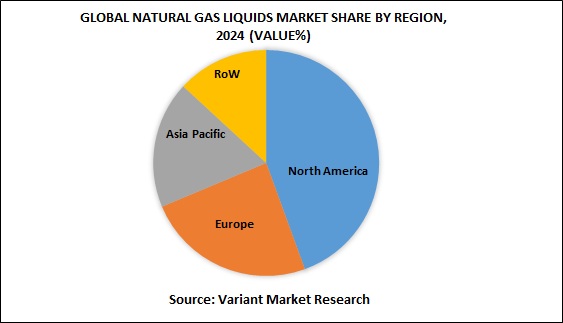 Geographically, the market is categorized into North America, Europe, Asia-Pacific, and Rest of the World (RoW). The U.S., Mexico and Canada are covered under North America wherein Europe covers UK, Russia, Norway, and others. Asia-Pacific covers China, India, Indonesia, Malaysia, and others. Rest of the World (RoW) covers South America, Middle East and Africa.
Market players have used various growth strategies to gain competition in the market. Acquisition & merger is amongst the prominent strategies adopted by key players to gain competition in the market. For instance, in May 2016, Range Resource Corporation and Memorial Resource Development (MRD) Corporation announced merger agreement under which Range will acquire all of the outstanding shares of common stock of MRD in an all-stock transaction valued at $4.4 billion. However, others strategies such as partnerships, expansion, and agreement have also been adopted by players, in order to increase their market share to sustain in the market.
Major companies operating in the natural gas liquids market are ConocoPhillips Company, SM Energy, Royal Dutch Shell Plc., Chesapeake Energy Corporation, Exxon Mobil Corporation, BP Plc, Range Resources Corporation, Linn Energy LLC, Statoil ASA, and Swift Energy Company, among others.
The key takeaways from the report
The report will provide detailed analysis of Natural Gas Liquids Market with respect to major segments such as product type, and geography
The report will include the qualitative and quantitative analysis with market estimation over 2015-2024 and compound annual growth rate (CAGR) between 2016 and 2024
Comprehensive analysis of market dynamics including factors and opportunities of the global Natural Gas Liquids Market
An exhaustive regional analysis of Natural Gas Liquids Market from 2015 to 2024 will be included in the report
Profile of the key players in the Natural Gas Liquids Market, will be provided, which include key financials, product & services, new developments and business strategies
Scope of Natural Gas Liquids Market
Product Type Segments
Propane
Ethane
Isobutene
Others
Geographical Segments
North America
Europe

Russia
U.K.
Norway
Others

Asia-Pacific

China
India
Malaysia
Indonesia
Others

RoW

South America
Middle East
Africa
---
Related Report
Biomass Pellets Market Global Scenario, Market Size, Outlook, Trend and Forecast, 2015 – 2024


- December 2017

Floating Wind Turbines Market Global Scenario, Market Size, Outlook, Trend and Forecast, 2015 – 2024


- December 2017

Geothermal Power Market Global Scenario, Market Size, Outlook, Trend and Forecast, 2015 – 2024


- December 2017

Biochar Market Global Scenario, Market Size, Outlook, Trend and Forecast, 2015 – 2024


- December 2017

Heat Exchanger Market Global Scenario, Market Size, Outlook, Trend and Forecast, 2015 – 2024


- December 2017