---
Global Offshore Mooring Market is estimated to reach $1,766 million by 2024; growing at a CAGR of 6.7% from 2016 to 2024. Offshore mooring is any structure made-up of anchors and connectors which are used for station keeping and securing to the seafloor. Mooring lines are made up of wire, chain and synthetic fiber rope or with a combination of all the three components. Factors such as wind, currents and waves determine the components to be used for making mooring system. The mooring system totally relies on the strength of the anchors. The various types of mooring system include taut leg, spread, catenary, dynamic position and single point. The catenary mooring is most commonly used in shallow water, whereas, semi-taut which is a combination of taut lines and catenary, are used for deep water. They are also used in the extraction of crude oil from oil wells.
Global Offshore Mooring Market Size and Forecast, 2015 - 2024 (US$ Million)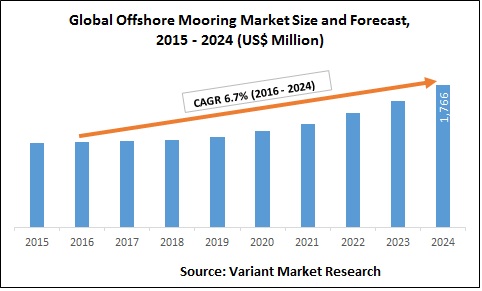 Increasing offshore field exploration activities and rise in subsea installations are supporting the growth of the offshore mooring market. Moreover, increasing investments in Middle East region, maturity of onshore oil & gas fields coupled with increase in per capita energy consumption are fuelling the growth of the market. However, high initial cost, increasing complexity of mooring systems and unpredictable deep sea conditions may hamper the growth of the market. Furthermore, increasing significance of clean electricity and technological advancements would provide growth opportunity for the market in coming years.
Global Offshore Mooring Market, by Mooring Type, 2016 Vs 2024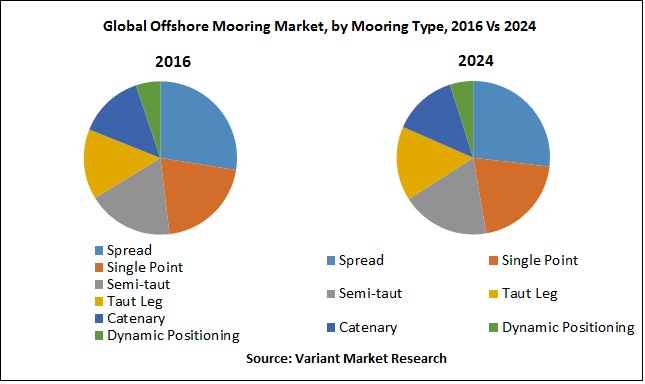 The global offshore mooring market is segmented based on the mooring type, application, anchorage type and geography. By mooring type, it is further segmented into catenary, taut leg, semi-taut, spread, single point, dynamic positioning. Application segment includes Floating Production, Storage & Offloading (FPSO) vessels, Floating Drilling, Production, Storage & Offloading (FDPSO) vessels, Floating Liquefied Natural Gas (FLNG), Tension Leg Platform (TLP), semi-submersibles, and SPAR platforms. Furthermore, anchorage type is segmented into suction anchors, drag embedment anchors (DEA) and vertical load anchors (VLA).
Global Offshore Mooring Market, Regional Revenue % (2016 Vs 2024)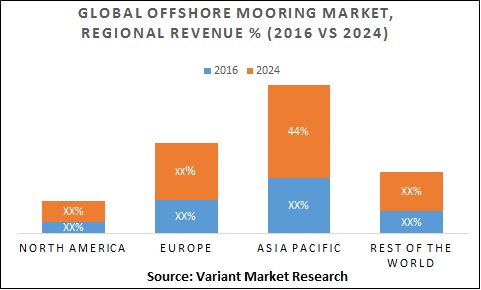 By geography the market is segmented into North America, Europe, Asia-Pacific and Rest of the World (RoW). The U.S., Canada and Mexico are covered under North America wherein Europe covers U.K., Italy, France, Germany and Rest of Europe. Asia-Pacific covers China, India, Japan, South Korea and Rest of Asia-Pacific. RoW covers South America, Middle East and Africa.
Key market players profiled in the report include Rigzone Mooring Systems, Offspring International, Viking Sea Tech, BW Offshore Ltd., Mampaey Offshore Industries B.V., Timberland Equipment Ltd., SBM Offshore N.V., Delmar Systems, Inc., National Oilwell Varco, Inc., Mooring Systems Inc., Lamprell Energy Ltd., and VolkerWessels, among others.
The key takeaways from the report
The report will provide detailed analysis of Offshore Mooring Market with respect to major segments such as mooring type, anchorage type and application
The report will include the qualitative and quantitative analysis with market estimation over 2015-2024 and compound annual growth rate (CAGR) between 2016 and 2024
Comprehensive analysis of market dynamics including factors and opportunities will be provided in the report
An exhaustive regional analysis of Offshore Mooring Market will be included included in the report
Profile of the key players in the Offshore Mooring Market will be provided, which include key financials, product & services, new developments and business strategies
Scope of Global Offshore Mooring Market
Mooring Type Segments
Catenary
Taut Leg
Semi-Taut
Spread
Single Point
Dynamic Positioning
Application Segments
Floating Production, Storage & Offloading (FPSO) Vessels
Floating Drilling, Production,
Storage & Offloading (FDPSO) Vessels
Floating Liquefied Natural Gas (FLNG)
Tension Leg Platform (TLP)
Semi-Submersibles
SPAR Platforms
Anchorage Type Segments
Drag Embedment Anchors
Suction Anchors
Vertical Load Anchors
Geography Segments
North America
Europe

U.K.
Italy
France
Germany
Others

Asia-Pacific

China
India
Japan
South Korea
Others

RoW

South America
Middle East
Africa
Global Offshore Mooring Market Primary Interviews, by Geography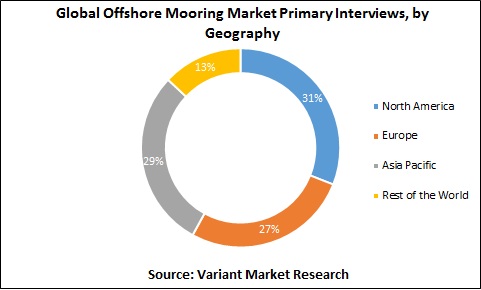 ---
Related Report
Heat Exchanger Market (By Type: Shell and Tube, Plate & Frame, Air Cooled, Printed Circuit; By Application: Chemical, Petrochemicals and O&G;, HVAC & Refrigeration, Food and Beverages, Power Generation; By Material: Steel and Non-Steel; By Geography: North America, Europe, Asia-Pacific and RoW) Global Scenario, Market Size, Outlook, Trend and Forecast, 2015 – 2024


- November 2017

Petroleum (Pet) Coke Market Global Scenario, Market Size, Outlook, Trend and Forecast, 2015 – 2024


- December 2017

Solar Control Films Market Global Scenario, Market Size, Outlook, Trend and Forecast, 2015 – 2024


- December 2017

Waste Heat Recovery System Market (By Application: Steam and Power Generation, Pre-Heating, and Other Applications; By End-User: Petroleum Refining, Chemical, Cement, Metal Production and Casting, Natural Gas Compression, Paper and Pulp, and Other End-Users; By Geography: North America, Europe, Asia-Pacific and RoW) Global Scenario, Market Size, Outlook, Trend and Forecast, 2015 – 2024


- November 2017

Wind Tower Market Global Scenario, Market Size, Outlook, Trend and Forecast, 2015 – 2024


- December 2017