---
Water Pump Market Overview :
Global Water Pump Market is estimated to reach $67.9 billion by 2024; growing at a CAGR of 5.5% from 2016 to 2024. Water pump is a mechanical device used to pump water with great force from water wells, water tanks, lakes, streams, and other water resources. Water pumps are used in various applications across industries and household sector. Use of water pumps are plenty, but they are primarily used to provide a continuous supply of water in industrial and commercial buildings, hospitals, houses, and other infrastructures. Water pumps are an important key factor in agriculture sector to ensure the controlled supply of water to farms. Apart from water circulation, water pumps find their usage in several household applications including in-house water fountain, gardening, and water coolers. It is also used to supply and transport various forms of liquid depending on the capacity and material of the pump used.
Global Water Pump Market Size and Forecast, 2015 - 2024 (US$ Billion)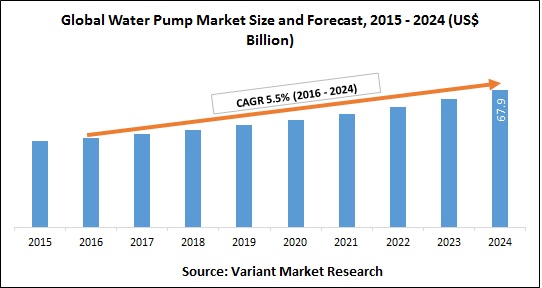 Growing industrialization and urbanization in developing countries and high usage of water pumps due to water scarcity in most of the regions are increasing the demand of water pumps globally. The key factors restraining the water pump market includes availability of substandard pumps and high competition. However, water pump market has been expanding significantly due to the increase in construction of water recycling plants and wastewater treatment plants around the globe.
The water pump market is categorized into technology, end-user, and geography. Technology segment is categorized into centrifugal water pump, and positive displacement water pump. End-user is further classified into municipal water & wastewater, chemical, oil & gas, energy, and others.
Global Water Pump market share by region, 2024 (value%)

Based on geography, water pump market is segmented into North America, Europe, Asia Pacific, and Rest of the World (RoW). North America is further bifurcated in U.S., Canada, and Mexico whereas Europe consist of UK, Russia, Germany, France, Italy, and others. Asia-Pacific is segmented into India, China, Japan, South Korea, and others while RoW is bifurcated into South America, Middle East, and Africa.
The key market player includes Gardner Denver, Inc., Torishima Pump Mfg. Co., General Electric Company, Weir Group PLC, Weatherford International Inc, ITT Inc., PROCON Products, KSB Group, Kirloskar Brothers Limited, and Sulzer Ltd., among others.
The key takeaways from the report
The report will provide detailed analysis of Water Pump Market with respect to major segments such as technology and end-user
The report will include the qualitative and quantitative analysis with market estimation over 2015-2024 and compound annual growth rate (CAGR) between 2016 and 2024
Comprehensive analysis of market dynamics including factors and opportunities will be provided in the report
An exhaustive regional analysis of Water Pump Market has been included in the report
Profile of the key players in the Water Pump Market will be provided, which include key financials, product & services, new developments and business strategies
Scope of Water Pump Market
Technology Segments
Centrifugal Water Pump
Positive Displacement Water Pump
End-User Segments
Municipal Water & Wastewater
Chemical
Oil & Gas
Energy
Other End-Users
Geography Segments
North America
Europe

UK
Russia
Germany
France
Italy
Others

Asia-Pacific

India
China
Japan
South Korea
Others

RoW

South America
Middle East
Africa
---
GET MORE INFORMATION ABOUT THIS REPORT
---
Related Report