---
Functional Flour Market Overview :
Functional Flour Market is estimated to reach $120 billion by 2024; growing at a CAGR of 6.6% from 2016 to 2024. Flour is a finely ground powder made from a variety of raw grains, used in making food products and baked products. Wheat is the most common type of flour among all and it is widelyused in baking. Flours are also prepared from other starchy plant foods which include oats, rice, corn, barley, peanuts, and rye, among others. Flour may also contain additives in very small quantities. Oxidizing agents such as azodicarbonamide, potassium bromate, and chlorine dioxide are responsible to enrich flour's baking quality. Flour is an excellent source of protein, fiber, vitamins and complex carbohydrates. Pure wheat bran is the richest source of dietary fiber, minerals, vitamin B6 and niacin. Gluten-free flours such as almond flour, brown rice flour, chickpea flour, and coconut flour are best suited for people having gluten-related disorders which include non-celiac gluten sensitivity, and celiac disease, among others.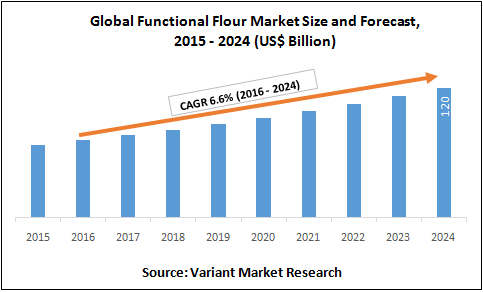 Growing population, change in lifestyle, and surge in expansion of cafes & fast food restaurants globally are driving the demand of thefunctional flour market. Moreover, expansion of commercial farmlands owing to the rising export opportunities and high demand for gluten-free flour globally fuel the growth of the market. However, unfavorable conditions at warehouses and increased use for additivesmay hinder the growth of the market. Furthermore, gluten-free alternatives such as brown rice flour, and corn flour, among others and growing aquatic feed industry would provide growth opportunities in the upcoming years.
The global functional flour market has been segmented based on the raw material, type, product type, application and geography. By raw material, it is segmented into wheat, maize, rice and others. By type, the market is segmented into pre-cooked flours, specialty flours, and fortified flours. Product type can be segmented into conventional flours and addictive based flours. Furthermore, application is segmented into bakery products, noodles & pasta, non-food applications and others.
By geography the market has beenbifurcated into North America, Europe, Asia-Pacific and Rest of the World (RoW). The U.S., Canada and Mexico are covered under North America wherein Europe covers U.K., Germany, Italy, France, Spain and others. Asia-Pacific covers China, India, Japan, and others. Rest of the World (RoW) covers South America, Middle East and Africa.
The key market players of the marketare General Mills Inc., Hindustan Unilever Limited, ITC Limited, Hodgson Mill, Wilmar International Limited, Archer Daniels Midland Company, Heartland Mills, Inc., King Arthur Flour Company, Inc., Associated British Foods plc, and ConAgra Foods, Inc. among others.
The key takeaways from the report
The report will provide detailed analysis of Functional Flour Market with respect to major segments such raw material, type, product type and application
The report will include the qualitative and quantitative analysis with market estimation over 2015-2024 and compound annual growth rate (CAGR) between 2016 and 2024
Comprehensive analysis of market dynamics including factors and opportunities will be provided in the report
An exhaustive regional analysis of Functional Flour Market has been included in the report
Profile of the key players of the Functional Flour Market, will be provided, which include key financials, product & services, new developments and business strategies
Scope of Functional Flour Market
Raw MaterialSegments
Type Segments
Pre-Cooked Flours
Fortified Flours
Specialty Flours
Product Type Segments
Conventional Flours
Addictive Based Flours
Application Segments
Noodles & Pasta
Bakery Products
Non-Food Applications
Others
Geography Segments
North America
Europe

U.K.
Germany
Italy
France
Spain
Others

Asia-Pacific
RoW

South America
Middle East
Africa
---
GET MORE INFORMATION ABOUT THIS REPORT
---
Related Report