---
Embedded Computing Market Overview :
Global Embedded Computing Market is estimated to reach $316.2 Billion by 2025; growing at a CAGR of 7.8% from 2017 to 2025.The embedded computing system is an arrangement of software and hardware that are designed to do a specific dedicated function in a machine or electronic device. The software and hardware are two distinguished parts of any embedded computing system which are activated by a set of commands so-called program to accomplish an operation as a lone system. They have strong characteristics of high speed, accuracy, low power consumption, adaptability, reliability, reusability, size, and others. Altogether, it involves timers, storage, system application circuits, power supply, and serial communication part. This system is used to control, monitor, or make a specific function of an electronic device by performing a fixed set of commands, plan, rules, or programs, that include data processing, reading inputs, display output, generating & transmitting data and others.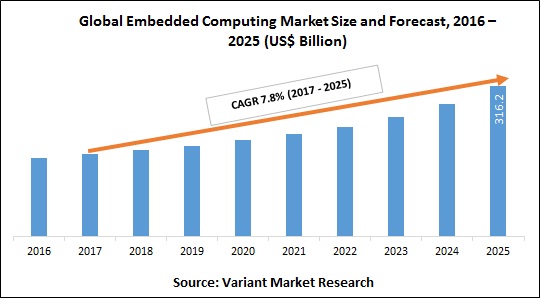 The factor fueling the growth of the embedded computing market are growing wireless communication infrastructure, increasing adoption of consumer electronics along with growing assumption of artificial intelligence. In addition, rising digitization in industrial automation, healthcare, and rising demand in defense, automobile and other sectors worldwide are also supporting the growth of the market. However, limited life-span, and memory capacity of the embedded system's hardware may limit the growth of market. Moreover, the applications of embedded computing systems are increasing owing to potential growth of developing economies, and evolution in Internet of Things (IoT) technology would generate profitable opportunities for the global market.
The major segment considered in the embedded computing market are type, end user, and geography. Type segment is classified into hardware, and software. Hardware is further sub segmented into microprocessor (MPUs), microcontroller (MCUs), digital signal processor (DSPs), others (ASIC & FPGA). By end user, the market is bifurcated into automotive, industrial, healthcare, energy, communications, consumers electronics, and others (banking, transport, government, robotics, and defense)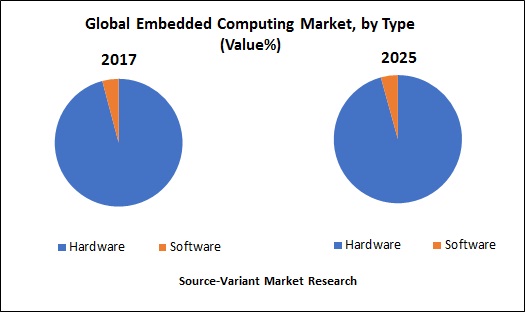 The country wise analysis has been also covered under the scope of the report. North America covers the U.S., Canada, and Mexico. UK, Germany, France, Italy, Spain, and Rest of Europe are analyzed under the European market. India, China, Japan, South Korea, Singapore, and Rest of Asia-Pacific are included under the Asia-Pacific market. While RoW is bifurcated into South America, Middle East, and Africa.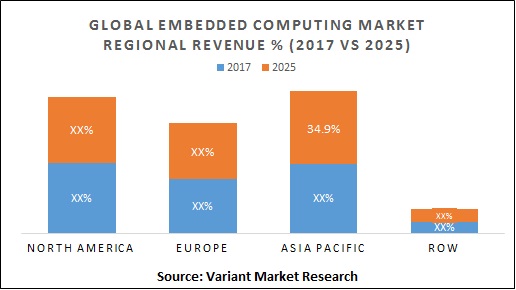 Key players profiled in the report include International Business Machines Corporation (IBM), AMR Electrical Services Ltd, Microsoft, Intel Corporation, Renesas Electronics Corporation, FUJITSU, Texas Instruments Incorporated, Microchip Technology Inc., Qualcomm Technologies, Inc., and Advantech Co., Ltd., among others.
The key takeaways from the report
The report will provide detailed analysis of Global Embedded Computing Market with respect to major segments such as type, end user, and geography.
The report will include the qualitative and quantitative analysis with market estimation over 2016 – 2025 and compound annual growth rate (CAGR) between 2017 and 2025
Comprehensive analysis of market dynamics including factors and opportunities will be provided in the report
An exhaustive regional analysis of Global Embedded Computing Market has been included in the report
Profile of the key players in the Global Embedded Computing Market will be provided, which include key financials, product & services, new developments and business strategies
Scope of the Global Embedded Computing Market
Type Segments
Hardware

Microprocessor (MPUs)
Microcontroller (MCUs)
Digital Signal Processor (DSPs)
Others (ASIC & FPGA)

Software
End User Segments
Automotive
Industrial
Healthcare
Energy
Communications
Consumers Electronics
Others (Banking, Transport, Government, Robotics, and Defense)
Geographical Segments
North America
Europe

UK
Italy
Germany
France
Spain
Rest of Europe

Asia-Pacific

China
Japan
India
South Korea
Singapore
Rest of Asia-Pacific

RoW

South America
Middle East
Africa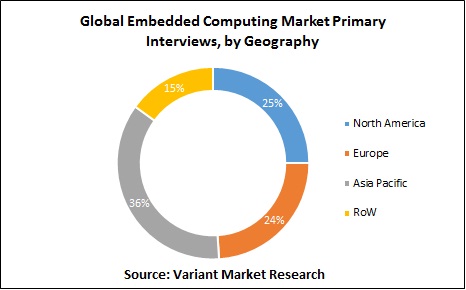 ---
GET MORE INFORMATION ABOUT THIS REPORT
---
Related Report
Global Data Analytics Outsourcing Market