---
High-Performance Computing Market Overview :
Global high-performance computing market is estimated to reach $60.9 Billion by 2025; growing at a CAGR of 8.5% from 2017 to 2025. High-performance computing (HPC) is fast and parallel over sets of computer elements (GPU, CPU). It works very fast network to connect among the compute elements. This is commonly used for scientific researchers, academic institutions, engineers and system of government mainly the military for complex applications. Growing demand for high speed and processing power, HPC is to be expected for interest businesses of all sizes, particularly for data warehouses and transaction processing. It has wide applications in numerous fields such as physical simulations, quantum mechanics, weather forecasting, and molecular modeling.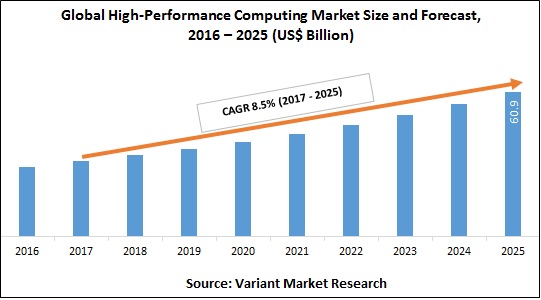 Rising demand for efficient computing, advance technologies, convergence of data with accuracy and high speed are the major factors driving the growth of the market. Additionally, more demand in research institutes, engineering design, military, weather research, government labs and universities are also supporting the growth of the market. However, data security issues and high price are the major restraints hindering the growth of the market. Moreover, escalating research, computation and data analysis performance would provide lucrative opportunities to the market in the coming years.
The global high-performance computing market is mainly classified on the basis of components, deployment, applications, and geography. Component segment is categorized into hardware & architecture, software & system management and professional services. The deployment type segment is bifurcated into cloud and on-premise. Furthermore, application type segment includes high performance technical computing, and high-performance business computing.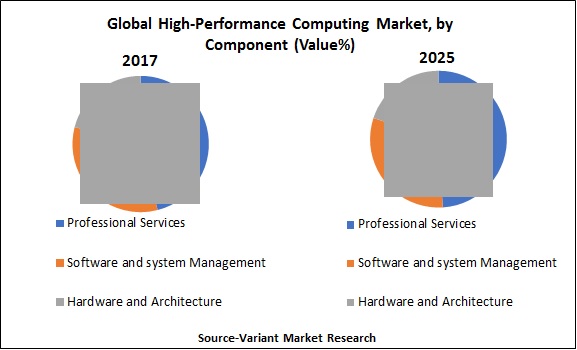 Based on geography, the global high-performance computing market is segmented into North America, Europe, Asia-Pacific, and Rest of the World (RoW). North America is further bifurcated in U.S., Canada, and Mexico whereas Europe consists of UK, Germany, France, Italy, and Rest of Europe. Asia-Pacific is segmented into India, China, Japan, South Korea, and Rest of Asia-Pacific while RoW is bifurcated into South America, Middle East, and Africa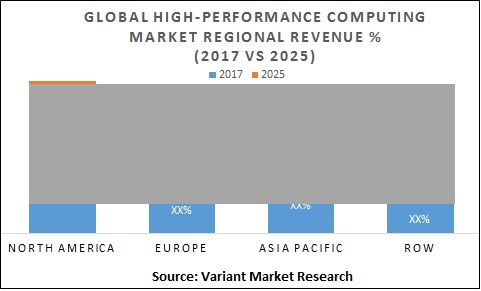 Key players operating in the market include Advanced Micro Devices, Inc, Microsoft, IBM, Intel Corporation, FUJITSU, Oracle, Lenovo., Dell, Cisco Systems, Inc., and NVIDIA Corporation, among others
The key takeaways from the report
The report will provide detailed analysis of the Global High-Performance Computing Market components, deployment, applications, and geography
The report will include the qualitative and quantitative analysis with market estimation over 2016 – 2025 and compound annual growth rate (CAGR) between 2017 and 2025
Comprehensive analysis of market dynamics including factors and opportunities will be provided in the report
An exhaustive regional analysis of the Global High-Performance Computing Market has been included in the report
Profile of the key players in the Global High-Performance Computing Market will be provided, which include key financials, product & services, new developments and business strategies
Scope of the Global High-Performance Computing Market
Component Segments
Hardware and Architecture

Memory Capacity
Energy Management
Server

Departmental
Super Computer
Divisional
Work Group

Network Devices

Software and system Management

Middleware
Cluster Management
Programming Tools
Performance Optimization Tools
Fabric Management

Professional Services

Design and Consulting
Integration and Deployment
Training and Outsourcing
Deployment Segments
Application Segments
High Performance Technical Computing

Consumer product Manufacturing
Government
Chemical
Bio-Science
Energy
University /Academic
Large Product Manufacturing
Electronics
Others

High Performance Business Computing

Online Game
Media Entertainment
Transportation
Retail
Financial Service
Ultra-scale Internet
Others
Geographical Segments
North America
Europe

UK
Germany
France
Italy
Rest of Europe

Asia-Pacific

India
China
Japan
South Korea
Rest of Asia-Pacific

RoW

South America
Middle East
Africa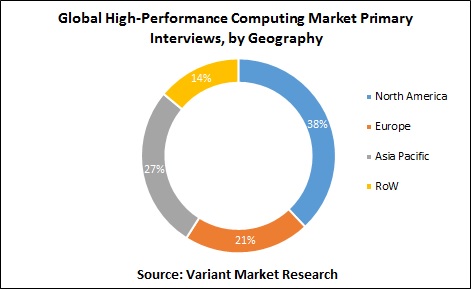 ---
GET MORE INFORMATION ABOUT THIS REPORT
---
Related Report
Global Data Analytics Outsourcing Market