---
3D Cell Culture Market Overview :
Global 3D Cell Culture Market is estimated to reach $4,899 million by 2024; growing at a CAGR of 23.3% from 2016 to 2024. 3D cell culture is the culture of biological cells in micro-assembles devices, where artificially created three-dimensional environment supports the growth of these cells. The micro-environment parameters of these growing cells can be controlled and monitored to a certain extent. Driven by advancements in the field of cell imaging and analytical systems, cells have been increasingly grown in 3D cell culture and have proved to be useful in many applications. Moreover, they are widely used in tissue engineering and drug discovery, owing to its ability to provide physiologically relevant and accurate data for various in-vivo test. 3D cell culture is widely used in various application such as, disease pathology, tissue morphogenesis and engineering, gene and protein expression, regenerative medicine, and others.
Global 3D Cell Culture Market Market Size and Forecast, 2015 - 2024 (US$ Million)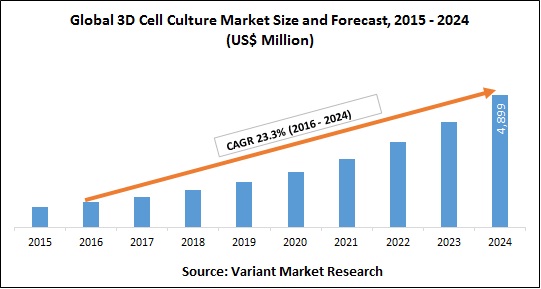 Increase in investment by pharmaceutical and biotechnology companies on 3Dcell culture, and growth in number of patients in need for organ transplantation are the key factors supporting the growth of the global 3D cell culture market. Moreover, ban on animal research and testing is also expected to drive 3D cell culture across various applications.However, high initial investments may restrain the growth of the market. Furthermore, development of 3D cell culture for formulating personalized cosmetics would provide growth opportunities for the market in the near future.
The global 3D cell culture market is categorized into technology, application, and end-user. By technology, the market is segmented into extracellular matrices, bioreactors, gels, Scaffold free platform, and microchips. By application, the market is sub-segmented into research, drug discovery, tissue engineering, clinical applications, and stem cell biology. Furthermore, end-user is segmented into research laboratories & institutes, biotechnology & biopharmaceutical industry, and hospital & diagnostic centers.
Global 3D CELL CULTURE market share by region, 2024 (value%)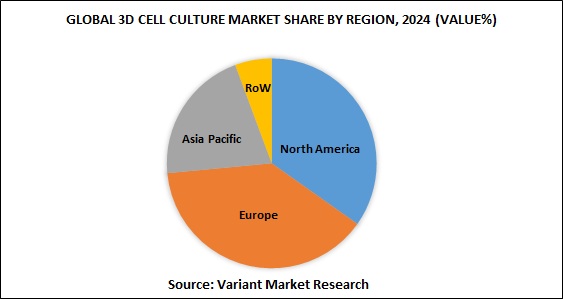 By geography, the market has been bifurcated into North America, Europe, Asia-Pacific, and Rest of the World (RoW). The U.S., Canada, and Mexico are covered under North America wherein Europe covers UK, Germany, France Italy, and others. Asia-Pacific covers China, Japan, India, South Korea, and others. RoW covers South America, Middle East, and Africa.
Key market players comprise Merck & Co., Inc., 3D Biotek LLC, Lonza Group, Kuraray Co., Ltd., Corning Incorporated, Becton, Dickinson and Company, Advanced Biomatrix, Inc., Thermo Fisher Scientific Inc., VWR International, LLC, and Global Cell Solutions, Inc., among others.
The key takeaways from the report
The report will provide a detailed analysis of Global 3D Cell Culture Market with respect to major segments such as technology, application, end-user, and geography
The report will include the qualitative and quantitative analysis with market estimation over 2015-2024 and compound annual growth rate (CAGR) between 2016 and 2024
Comprehensive analysis of market dynamics including factors and opportunities will be provided in the report
An exhaustive regional analysis of Global 3D Cell Culture Market from 2015 to 2024 has been included in the report
Profile of the key players in the Global 3D Cell Culture Market will be provided, which include key financials, product & services, new developments, and business strategies
Scope of the Global 3D Cell Culture Market
Technology Segments
Extracellular Matrices
Bioreactors
Gels
Scaffold Free Platform
Microchips
Application Segments
Research
Drug Discovery
Tissue Engineering
Clinical Applications
Stem Cell Biology
End-User Segments
Research Laboratories & Institutes
Biotechnology & Biopharmaceutical Industry
Hospital & Diagnostic Centers
Geography Segments
Europe

UK
Germany
France
Italy
Others
Asia-Pacific

India
China
Japan
South Korea
Others

RoW

South America
Middle East
Africa
---
GET MORE INFORMATION ABOUT THIS REPORT
---
Related Report