---
Cell and Tissue Culture Supplies Market Overview :
Global Cell and Tissue Culture Supplies Market is estimated to reach $36,744 million by 2024; growing at a CAGR of 9.4% from 2016 to 2024. Tissue or cell culture is a process of isolating a tissue from plant or animal and transferring to an artificial environment under controlled conditions. Cell culture is an essential part of life science research and provides excellent model system for studying the various characteristics of cells. Cell culture experiments require a wide range of equipment and supplies for growing and monitoring the cultures. A well-resourced cell and tissue culture supplies lab are capable of growing cells for various applications including pharmaceutical development, biological research, and others. Cell culture is also used for drug screening and manufacturing biological compound on a large scale.
Global Cell and Tissue Culture Supplies Market Size and Forecast, 2015 - 2024 (US$ Million)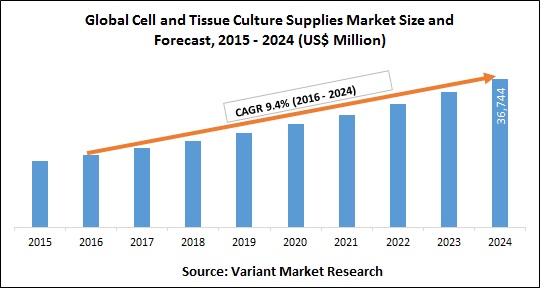 Rising prevalence of chronic diseases, growing investments in R&D for cell-based research and tissue engineering and increasing demand for serum and vaccines are the factors supporting the growth of the global cell and tissue culture supplies market. Moreover, rising demand for artificial organs and increasing applications of cell and tissue culture also supports the development of the market. However, complexity of cell culture techniques and ethical concern over misuse of animals are the major restraints for the market. Furthermore, growing demand for customized media solutions, and rising third party research contracts would provide future scope for the market.
The global cell and tissue culture supplies market is segmented into type, application, and geography. The type segment is bifurcated into consumable products (media (serum free media, classical media, specialty media, lysogeny broth, chemically defined media, and protein free media), reagent (protease inhibitors, growth factors & cytokines, thrombin, albumin, amino acids, and others), sera (fetal bovine serum and others), contamination detection kits, cryoprotective agents) and instruments (culture systems (tissue culture flasks, multiple well plates, roller bottles, bioreactors, culture bags and culture dishes), incubators, biosafety cabinets, cryostorage equipment, roller bottle equipment, pipetting instruments and others). Furthermore, applications are categorized into vaccine production, biopharmaceutical production, toxicity testing, gene therapy, drug screening & development, cancer research and others.
Global Cell and Tissue Culture Supplies market share by region, 2024 (value%)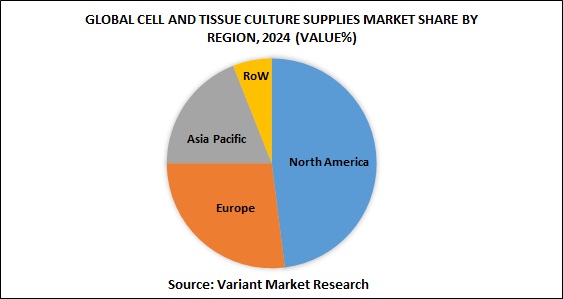 By geography, the market has been bifurcated into North America, Europe, Asia-Pacific, and Rest of the World (RoW). The U.S., Canada, Mexico are covered under North America wherein Europe covers UK, Germany, France Italy, and others. Asia-Pacific covers China, Japan, India, South Korea, and others. RoW covers South America, Middle East, and Africa.
The key players considered in this market are STEMCELL Technologies Inc., VWR International, Wheaton Industries, Inc., Corning, Inc., Thermo Fisher Scientific, Inc., Merck KGaA, Lonza Group AG, Promocell GmbH, Eppendorf AG, and GE Healthcare, among others.
The key takeaways from the report
The report will provide a detailed analysis of Global Cell and Tissue Culture Supplies Market with respect to major segments such as type, and application
The report will include the qualitative and quantitative analysis with market estimation over 2015-2024 and compound annual growth rate (CAGR) between 2016 and 2024
Comprehensive analysis of market dynamics including factors and opportunities will be provided in the report
An exhaustive regional analysis of Global Cell and Tissue Culture Supplies Market from 2015 to 2024 will be included in the report
Profile of the key players in the Global Cell and Tissue Culture Supplies Market will be provided, which include key financials, product & services, new developments and business strategies
Scope of the Global Cell and Tissue Culture Supplies Market
Consumable Products

Media

Serum Free Media
Classical Media
Specialty Media
Lysogeny Broth
Chemically Defined Media
Protein Free Media

Reagent

Protease Inhibitors
Growth Factors & Cytokines
Thrombin
Albumin
Amino Acids
Other Reagents

Sera

Fetal Bovine Serum
Other Seras

Contamination Detection Kits
Cryoprotective Agents
Instruments

Culture Systems

Tissue Culture Flasks
Multiple Well Plates
Roller Bottles
Bioreactors
Culture Bags
Culture Dishes

Incubators
Biosafety Cabinets
Cryostorage Equipment
Roller Bottle Equipment
Pipetting Instruments
Other Instruments
Application Segments
Vaccine Production
Biopharmaceutical Production
Toxicity Testing
Gene Therapy
Drug Screening & Development
Cancer Research
Other Applications
Geography Segments
Europe

UK
Germany
France
Italy
Other
Asia-Pacific

China
Japan
India
South Korea
Others

RoW

South America
Middle East
Africa
---
GET MORE INFORMATION ABOUT THIS REPORT
---
Related Report