---
Surgical Lamp Market Overview :
Global Surgical Lamp Market is estimated to reach $859 billion by 2024, growing at a CAGR of 4.5% from 2016 to 2024. Surgical lamp also called as operating light or surgical light head is a medical device used to deliver visible illumination of the surgical field. This device is used by dentists, doctors, and surgeons to perform surgical techniques such as endoscopic surgery, neurosurgery, optical surgery, and dental surgery with superior performance and greater success rate. High-quality functional surgical lamp delivers excellent shadow control, and deep-cavity illumination, with natural color rendition which helps in providing the best possible patient outcomes.
Global Surgical Lamp Market Size and Forecast, 2015 - 2024 (US$ Billion)

The global surgical lamp market is majorly driven by rise in number of surgeries, novel technological advancements, and increasing demand for better healthcare facilities. Moreover, need for advanced applications of cost-saving surgical light lamp also supports the growth of the market. However, high costs of CFL and LED lamps, complications accompanying with CFLs, and economic slowdown in some nations would restraint the growth of the market. Furthermore, initiative taken by government organizations for the implementation of energy-efficient surgical lamps in healthcare, and increasing efforts of research & development for advancement in surgical procedure would provide growth opportunities for the market.
The global surgical lamp market is bifurcated into technology, type of light, product type, and geography. Technology segment is sub-segmented into LED surgical lamps, CFL surgical lamps, and halogen surgical lamps. By type of light, the market is bifurcated into colour rendition light, homogenous light, special germicidal ultraviolet ray, vein light, and others. Furthermore, product type is categorized into ceiling mount surgical lamp, surgical headlight lamp, dental light lamp, laser light, and others.
Global Surgical Lamp market share by region, 2024 (value%)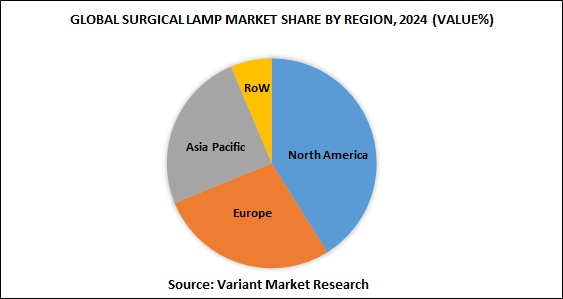 By geography, the surgical lamp market has been categorized into North America, Europe, Asia-Pacific, and Rest of the World (RoW). The U.S., Canada, and Mexico are covered under North America wherein Europe covers Germany, U.K., France, and others. Asia-Pacific covers India, Japan, China, and others. Rest of the World (RoW) covers South America, Middle East, and Africa.
Major companies operating in the global surgical lamp market include Welch Allyn, Steris Corporation, Integra LifeSciences Corporation, KLS Martin Group, DRE INC., Stryker Corporation, Skytron, A-dec, Inc., Waldmann GmbH & Co. KG, and Koninklijke Philips N.V., among others.
The key takeaways from the report
The report will provide detailed analysis of Surgical Lamp Market with respect to major segments such as technology, type of light, product type, and geography
The report will include the qualitative and quantitative analysis with market estimation over 2015-2024 and compound annual growth rate (CAGR) between 2016 and 2024
Comprehensive analysis of market dynamics including factors and opportunities will be provided in the report
An exhaustive regional analysis of market dynamics including factors and opportunities will be provided in the report Surgical Lamp Market has been included in the report
Profile of the key players of the Surgical Lamp Market will be provided, which include key financials, product & services, new developments and business strategies
Scope of Global Surgical Lamp Market
Technology Segments
LED Surgical Lamps
CFL Surgical Lamps
Halogen Surgical Lamps
Type of Light Segments
Colour Rendition Light
Homogenous Light
Special Germicidal Ultraviolet Ray
Vein Light
Others
Product Type Segments
Ceiling Mount Surgical Lamp
Surgical Headlight Lamp
Dental Light Lamp
Laser Light
Others
Geography Segments
North America
Europe

Germany
U.K.
France
Others

Asia-Pacific
RoW

South America
Middle East
Africa
---
GET MORE INFORMATION ABOUT THIS REPORT
---
Related Report