---
Global Industrial Robotics Market is estimated to reach $77.7 Billion by 2024; growing at a CAGR of 9.3% from 2016 to 2024. An industrial robot is a robotic system designed to move materials, parts & tools from one place to another, and to perform a variety of programmed tasks in manufacturing and production unit. Typical applications of robots include assembly, welding, painting, and materials handling, among others. These robots are gaining popularity across various industries such as, automotive, metals, electricals & electronics, rubber and plastics, and food & beverages, owing to its accuracy in performance. In most of the industries such as chemical industry, industrial robots are highly demanded to perform duties that are dangerous or inapt for human workers. High growth in automotive industry, majorly in the Asia-Pacific countries such as China and India, would show an attractive industrial robotics market trend.
Industrial Robotics Market Size and Forecast, 2015 - 2024 (US$ Billion)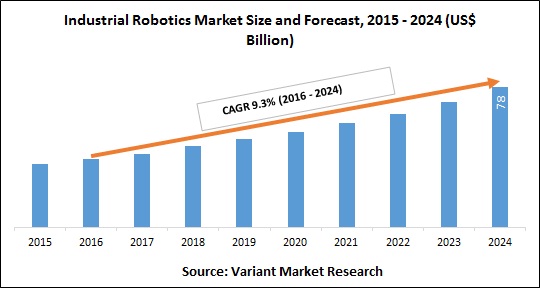 High usage of industrial robotics in the manufacturing industry, rise in demand for automation in various industries, evolving robotics & artificial intelligence (AI) industry, and reduction in custom duties are the major factors driving the growth of global industrial robotics market. However, high cost of industrial robotics solutions may restrict the market growth. Moreover, emergence of new technologies coupled with increasing competition in the market, and growing demand for automation in non-conventional sectors, such as micro-electronics are some of the factors expected to generate profitable opportunities for the market in the forecast periods.
The global industrial robotics market is majorly classified on the basis of type, industry vertical, function, and geography. The market classified on the basis of type includes articulate, cartesian, SCARA, cylindrical, and others. Classification by industry vertical comprises automotive, electrical & electronics, chemical, rubber & plastics, machinery, metals, food & beverages, precision & optics, and others. The market classified by function includes soldering & welding, materials handling, assembling & disassembling, painting & dispensing, milling, cutting & processing, and others.
INDUSTRIAL ROBOTICS MARKET share by region, 2024 (value%)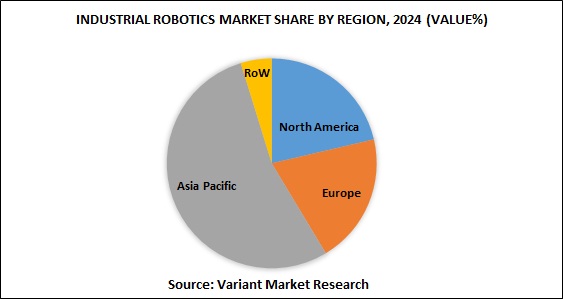 Based on geographical analysis, industrials robotics market is segmented into North America, Europe, Asia-Pacific, and Rest of the World (RoW). North America is further bifurcated in U.S., Canada, and Mexico whereas Europe consist of UK, Germany, France, Italy, and others. Asia-Pacific is segmented into India, China, Japan, South Korea, and others while RoW is bifurcated into South America, Middle East, and Africa.
The prominent players operating in the market include Denso Corporation, Epson America, Inc., Kawasaki Heavy Industrials Ltd., Mitsubishi Electric Corporation, Diahen Corporation, Panasonic Corporation, Yaskawa Electric Corporation, Universal Robotics, KUKA Robotics Corporation, and Fanuc Ltd., among others.
The key takeaways from the report
The report will provide detailed analysis of Global Industrial Robotics Market with respect to major segments such as type, industry vertical, and function
The report will include the qualitative and quantitative analysis with market estimation over 2015 – 2024 and compound annual growth rate (CAGR) between 2016 and 2024
Comprehensive analysis of market dynamics including factors and opportunities will be provided in the report
An exhaustive regional analysis of Global Industrial Robotics Market has been included in the report
Profile of the key players in the Global Industrial Robotics Market will be provided, which include key financials, product & services, new developments, and business strategies
Scope of Global Industrial Robotics Market
By Type
Articulated
Cartesian
SCARA
Cylindrical
Others
By Industry Vertical
Automotive
Electrical & Electronics
Chemical, Rubber & Plastics
Machinery
Metals
Food & Beverages
Precision & Optics
Others
By Function
Soldering & Welding
Materials Handling
Assembling & Disassembling
Painting & Dispensing
Milling, Cutting & Processing
Others
Geographical Segments:
North America
Europe

UK
Germany
France
Italy
Others

Asia Pacific

China
India
Japan
South Korea
Others

RoW

South America
Middle East
Africa
---
Related Report
Photonics IC (PIC) Market Global Scenario, Market Size, Outlook, Trend and Forecast, 2015 – 2024


- December 2017

Wafer Level Packaging Market Global Scenario, Market Size, Outlook, Trend and Forecast, 2015 – 2024


- December 2017

Graphene Electronics Market Global Scenario, Market Size, Outlook, Trend and Forecast, 2015 – 2024


- December 2017

Explosive Ordnance Disposable (EOD) Equipment Market Global Scenario, Market Size, Outlook, Trend and Forecast, 2015 – 2024


- December 2017

Nanosensors Market Global Scenario, Market Size, Outlook, Trend and Forecast, 2015 – 2024


- December 2017