---
Global barium nitrate market is estimated to reach $3,923 million by 2024; growing at a CAGR of 5.9% from 2016 to 2024. Barium nitrate, Ba(NO3)2 is a salt composed of barium and the nitrate ion. Barium nitrate is normally a white solid at room temperature. It is soluble in water, and similar to other soluble barium compounds, is toxic. Barium nitrate occurs naturally as the very rare mineral nitrobarite. Barium nitrate could be manufactured by two processes. The first process requires a heated solution of sodium nitrate which is combined with barium chloride, resulting in separation of barium nitrate crystals from the mixture. In the second process, it requires dissolving small lumps of barium carbonate in nitric acid, letting iron impurities to precipitate, then filter, evaporate, and crystallize. Barium nitrate properties makes it fit for use in various military applications, including incendiary ammunition and thermite grenades.
Global Barium Nitrate Market Size and Forecast, 2015 – 2024 (US$ Million)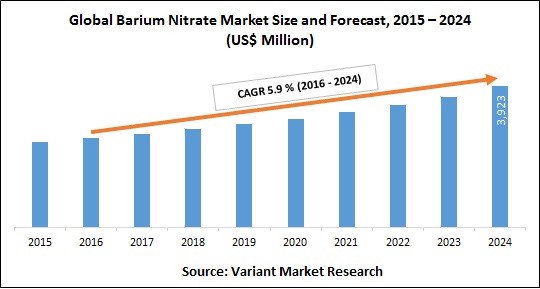 The global barium nitrate market is mainly driven by the growing demand from the fireworks/pyrotechnics industry accompanied by their increasing use in military applications across the globe. However, toxic nature of barium nitrate is the major hindrance for the market. Moreover, expanding glass industry, and rising demand for ceramic powder used for manufacturing of semiconductor devices and passive electronic components such as capacitors is further expected to generate growth opportunities for the market in the forecast period.
The global barium nitrate market is mainly classified on the basis of end-users and geography. The classification by end-users includes fireworks/pyrotechnics, glass/ceramics, and other end-users.
Global Barium Nitrate Market by End-Users

Based on geographical analysis, barium nitrate market is classified into North America, Europe, Asia-Pacific, Rest of the World (RoW). North America is further bifurcated in U.S., Canada, and Mexico whereas Europe consists of Germany, Russia, and rest of Europe. Asia-Pacific is segmented into China, India, and rest of Asia-Pacific while RoW is bifurcated into South America, Middle East, and Africa.
Barium nitrate market Regional Revenue % (2016 Vs 2024)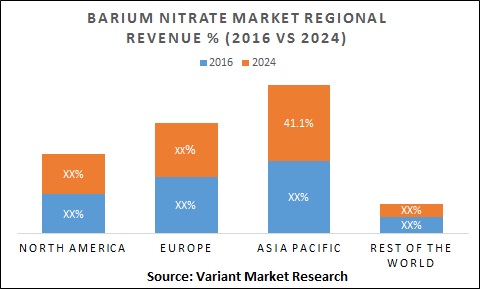 Key companies operating in the global barium nitrate market are Basstech International LLC, Barium Chemicals Co. Ltd., Solvay S. A., Degussa AG, Sakai Chemical Industry Co. Ltd., Tennants Distribution Ltd., Sigma Aldrich Corporation, San Yuan Chemical Co. Ltd., Angene International Limited, and Jiaocheng Sanxi Chemical Co., Ltd, among others.
The key takeaways from the report
The report will provide detailed analysis of Barium Nitrate Market with respect to major segment such as end-users, and geography
The report will include the qualitative and quantitative analysis with market estimation over 2015 – 2024and compound annual growth rate (CAGR) between 2016 and 2024
Comprehensive analysis of market dynamics including factors and opportunities will be provided in the report
An exhaustive regional analysis of Barium Nitrate Market has been included in the report
Profile of the key players in the Barium Nitrate Market will be provided, which include key financials, product & services, new developments and business strategies
Scope of Barium Nitrate Market
End-user segments
Fireworks/Pyrotechnics
Glass/Ceramics
Other End-Users
Geographical Segments
North America
Europe

Germany
Russia
Rest of Europe

Asia Pacific

China
India
Rest of Asia-Pacific

RoW

South America
Africa
Middle East
Barium nitrate Market Primary Interviews by Geography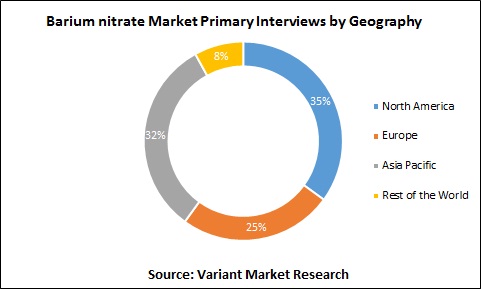 ---
Related Report
Biochemical Analyzer Market Global Scenario, Market Size, Outlook, Trend and Forecast, 2015 – 2024


- December 2017

Graphite Electrode Market Global Scenario, Market Size, Outlook, Trend and Forecast, 2016 – 2024


- December 2017

Solar Control Glass Market (By Application: Commercial Buildings, Residential Buildings, Automotive, and Other Applications; By Geography: North America, Europe, Asia-Pacific and RoW) Global Scenario, Market Size, Outlook, Trend and Forecast, 2015 – 2024


- November 2017

Pigments Market Global Scenario, Market Size, Outlook, Trend and Forecast, 2015-2024


- December 2017

Nano- Porous Material Market Global Scenario, Market Size, Outlook, Trend and Forecast, 2015 – 2024


- December 2017