---
Global Hot Melt Adhesives Market is expected to reach $11.1 billion by 2024 growing at a CAGR of 6.5% from 2016 to 2024. The hot melt adhesives are thermoplastic materials that provides optimal hold by the process of melting and solidifying. They are available in the form of granules, powder, blocks, ribbons, foil, slats, and others. Special application equipment is required to operate in high temperature range needed to apply the hot met adhesives. Currently, dispensers and glue guns are most widely used equipment. These adhesives are widely used in consumer goods and construction industries for manufacturing pressure-sensitive products.
Global Hot Melt Adhesives Market Size and Forecast, 2015 – 2024 (US$ Billion)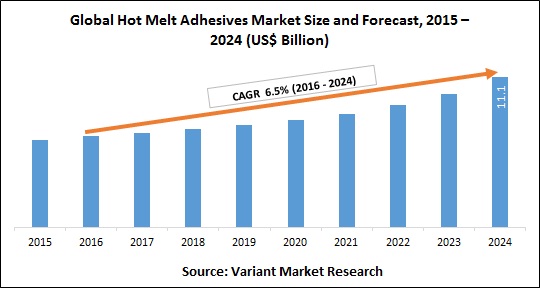 Increasing demand from packaging industry, rising need for replacing other adhesive technologies, growth in non-woven disposable industries, and need for high-performance solutions are the key drivers propelling the growth of the global hot melt adhesives market. However, fluctuating price of raw materials and low thermal resistance are the major hinderance of the market growth. Furthermore, market expansion, and rising trend of printed and graphic products would create growth opportunities in the coming years.
The global hot melt adhesives market is categorized on the basis of type, application, and geography. Type segment includes ethylene-vinyl acetate (EVA), polyurethane (PUR), styrene block copolymers (SBS/SIS), hot melt pressure sensitive adhesives (HMPSA), polyamide (PA), and other types. Application is segmented as packaging, electronics, wood and furniture, automotive, non-woven/hygiene, construction, and other applications.
Based on geographical analysis, global hot melt adhesives market is segmented into North America, Europe, Asia-Pacific, and Rest of the World (RoW). North America is further bifurcated in U.S., Canada, and Mexico whereas Europe consists of UK, Germany, Italy, France, and rest of Europe. Asia-Pacific is segmented into China, India, Japan, South Korea, and rest of Asia-Pacific, while RoW is bifurcated into South America, Middle East, and Africa.
Global Hot Melt Adhesives Market Regional Revenue % (2016 Vs 2024)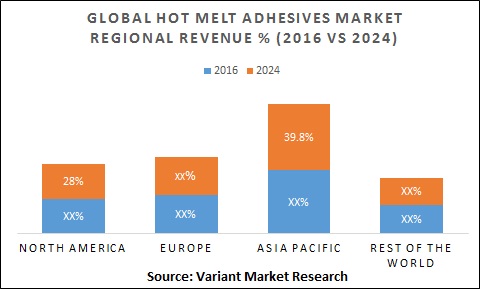 The key players competing in this market include Sika AG, 3M Company, Toyobo Co., Ltd., Dow Corning, Jowat SE, Henkel AG & Company, Palmetto Adhesives Company, American Chemical Inc., Worthen Industries, and Beardow & ADAMS (Adhesives) Limited, among others.
The key takeaways from the report
The report will provide detailed analysis of Global Hot Melt Adhesives Market with respect to major segments such as type, and application
The report will include the qualitative and quantitative analysis with market estimation over 2015-2024 and compound annual growth rate (CAGR) between 2016 and 2024
Comprehensive analysis of market dynamics including factors and opportunities will be provided in the report
An exhaustive regional analysis of Global Hot Melt Adhesives Market will be included in the report
Profile of the key players in the Global Hot Melt Adhesives Market will be provided, which include key financials, product & services, new developments and business strategies
Scope of Global Hot Melt Adhesives Market
Type Segments
Ethylene-Vinyl Acetate (EVA)
Polyurethane (PUR)
Styrene Block Copolymers (SBS/SIS)
Hot Melt Pressure Sensitive Adhesives (HMPSA)
Polyamide (PA)
Other Types
Application Segments
Packaging
Electronics
Wood and Furniture
Automotive
Non-Woven/Hygiene
Construction
Other Applications
Geographical Segments
North America
Europe

UK
Germany
Italy
France
Rest of Europe

Asia Pacific

China
India
Japan
South Korea
Rest of Asia-Pacific

RoW

South America
Middle East
Africa
Global Hot Melt Adhesives Market Primary Interviews by Geography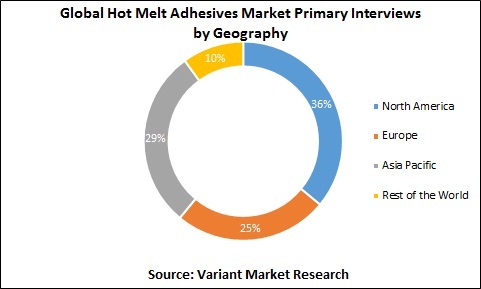 ---
Related Report
Biochemical Analyzer Market Global Scenario, Market Size, Outlook, Trend and Forecast, 2015 – 2024


- December 2017

Graphite Electrode Market Global Scenario, Market Size, Outlook, Trend and Forecast, 2016 – 2024


- December 2017

Solar Control Glass Market Global Scenario, Market Size, Outlook, Trend and Forecast, 2015 – 2024


- December 2017

Pigments Market Global Scenario, Market Size, Outlook, Trend and Forecast, 2015-2024


- December 2017

Nano- Porous Material Market Global Scenario, Market Size, Outlook, Trend and Forecast, 2015 – 2024


- December 2017