---
Global Floating Solar Panels Market is estimated to reach $1,186 million by 2024; growing at a CAGR of 64.7% from 2016 to 2024. Floating solar panels are an arrangement of photovoltaic panels that are capable of floating on water bodies. These floating solar plants are capable of solving the issues involving lack of land which is now scarcely available in the world due to high in cost. These panels can be installed in any water bodies such as a lake, reservoir, river, and others and can also increase the amount of generation along with the cooling effect of water. Moreover, solar panels that are installed on land may reduce the yield as the land heats up, to which, a floating platform can reduce the heating problem to a great extent.
Global Floating Solar Panels Market Size and Forecast, 2015-2024 (US$ Million)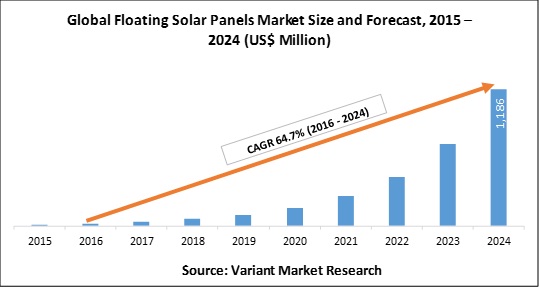 Scarcity of land and high cost of acquisition, high production capacity, and increasing need for clean energy sources are the key drivers propelling the growth of the global floating solar panels market. Moreover, increasing investments by governments, and declining panel cost also drives the market growth. However, high cost of installation could act as a major restraint for the market. Furthermore, increasing demand for high stability photovoltaic devices, rising R&D on potential applications of solar power, and market expansion would create immense market opportunities in the coming years.
The global floating solar panels market is segmented on the basis of product type, location, and geography. Product type is bifurcated into solar-tracking floating solar panels, and stationary floating solar panels. Location is further categorized as on-shore floating solar panels, and off-shore floating solar panels.
Based on geography, floating solar panels market is segmented into North America, Europe, Asia-Pacific, and Rest of the World (RoW). North America is further bifurcated in U.S., Canada, and Mexico whereas Europe consists of UK, Germany, France, Italy, and rest of Europe. Asia-Pacific is segmented into China, Japan, India, Australia, and rest of Asia-Pacific, while RoW is bifurcated into South America, Middle East, and Africa.
GLOBAL FLOATING SOLAR PANELS MARKET, REGIONAL REVENUE % (2016 VS 2024)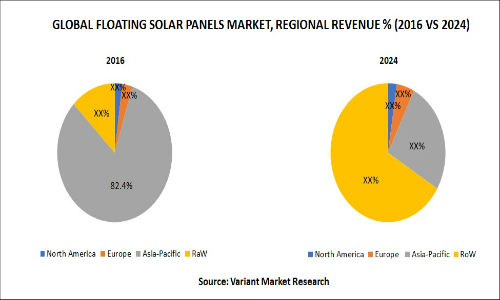 The key market players include Kyocera Corporation, Trina Solar Limited, Novaton AG, SPI Energy Co., Ltd., Ciel Et Terre International, Sharp Corporation, SPG Solar, Inc., Wuxi Suntech Power Co., Ltd., Yingli Solar, and Pristine Sun LLC, among others.
The key takeaways from the report
The report will provide detailed analysis of Global Floating Solar Panels Market with respect to major segments such as product type, and location
The report will include the qualitative and quantitative analysis with market estimation over 2015 – 2024 and compound annual growth rate (CAGR) between 2016 and 2024
Comprehensive analysis of market dynamics including factors and opportunities will be provided in the report
An exhaustive regional analysis of Global Floating Solar Panels Market has been included in the report
Profile of the key players in the Global Floating Solar Panels Market will be provided, which include key financials, product & services, new developments and business strategies
Scope of the Global Floating Solar Panels Market
Product Type Segments
Solar-Tracking Floating Solar Panels
Stationary Floating Solar Panels
Location Segments
On-Shore Floating Solar Panels
Off-Shore Floating Solar Panels
Geographical Segments
North America
Europe

UK
Germany
France
Italy
Rest of Europe

Asia-Pacific

China
Japan
India
Australia
Rest of Asia-Pacific

RoW

South America
Middle East
Africa
Global Floating Solar Panels Market Primary Interviews, by Geography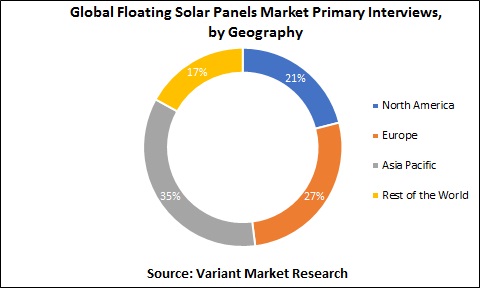 ---
Related Report
Energy Management System Market (By Type: IEMS, BEMS, and HEMS; By Vertical: Power and Energy, Manufacturing, Retail and Offices, Telecom and IT, Healthcare, and Other Verticals; By End User: Commercial, and Residential; By Components: Sensors, Controllers, Software, and Other Components; By Geography: North America, Europe, Asia-Pacific and RoW) Global Scenario, Market Size, Outlook, Trend and Forecast, 2015 – 2024


- November 2017

Heat Exchanger Market (By Type: Shell and Tube, Plate & Frame, Air Cooled, Printed Circuit; By Application: Chemical, Petrochemicals and O&G;, HVAC & Refrigeration, Food and Beverages, Power Generation; By Material: Steel and Non-Steel; By Geography: North America, Europe, Asia-Pacific and RoW) Global Scenario, Market Size, Outlook, Trend and Forecast, 2015 – 2024


- November 2017

Petroleum (Pet) Coke Market Global Scenario, Market Size, Outlook, Trend and Forecast, 2015 – 2024


- December 2017

Solar Control Films Market (By Type: Clear Films, Dyed Films, Vacuum Coated Films, Safety Films, Decorative Films, IR Films, and Sputtered Films; By Application: Commercial Building, Residential Building, Automotive, Marine, and Other Applications; By Geography: North America, Europe, Asia-Pacific and RoW) Global Scenario, Market Size, Outlook, Trend and Forecast, 2015 – 2024


- November 2017

Waste Heat Recovery System Market (By Application: Steam and Power Generation, Pre-Heating, and Other Applications; By End-User: Petroleum Refining, Chemical, Cement, Metal Production and Casting, Natural Gas Compression, Paper and Pulp, and Other End-Users; By Geography: North America, Europe, Asia-Pacific and RoW) Global Scenario, Market Size, Outlook, Trend and Forecast, 2015 – 2024


- November 2017