---
Terahertz Components and Systems Market Overview :
Global Terahertz Components and Systems Market is estimated to reach $433.6 Million by 2024 with CAGR of 26.8% between 2016 and 2024. Research and development into terahertz technology have been receiving high attention around the world, and devices are exploiting the waveband into a diverse range of applications. Terahertz waves which are also called as undeveloped electromagnetic waves, fall between radio waves and light in the frequency spectrum and have the ability to pass through cloths, paper, cardboard, masonry, plastics, wood and ceramics. The sources for terahertz includes thermal (lamp bodies), electrical (gunn diodes, backward wave oscillators), optical or laser based among others. They are highly used in remote sensing, astronomy, medical testing, drug detection, and communications among others.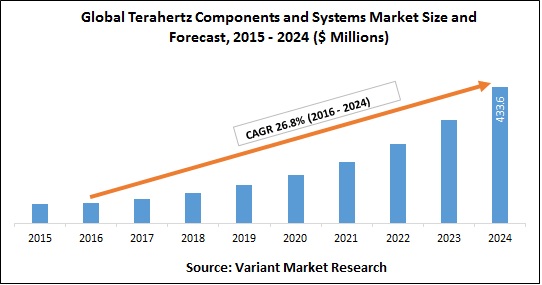 Growing application of terahertz technology across various sectors coupled with increased use of this technology in laboratories fuels the demand for terahertz components and systems market. Moreover, expanding utilization of terahertz in medical imaging and non-destructive testing also boosts the growth of the market. However, limitation in penetration depth into materials and disability to focus on spot sizes below 100 micrometer hinders the growth of the market. Furthermore, increasing applications in various sectors and technologies with inexpensive small radiation devices and detectors provide growth opportunity for the market in the upcoming years.
The global Terahertz Components and Systems market is segmented based on the components, systems, applications and geography. By component type, it is further segmented into terahertz sources, terahertz detectors and others. Systems are segmented into system based on spectroscopy (time-domain spectroscopy, frequency domain spectroscopy and imaging by scanning), terahertz radar and terahertz sensing. Furthermore, applications are segmented into industrial process monitoring, research laboratory application, medical imaging, non destructive testing and others.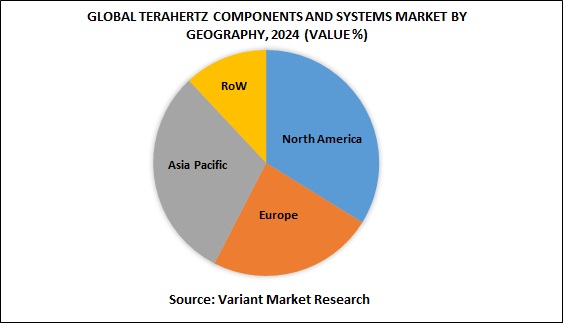 By geography the market is segmented into North America, Europe, Asia-Pacific and Rest of the World (RoW). The U.S., Canada and Mexico are covered under North America wherein Europe covers U.K., Italy, France, Germany and Rest of Europe. Asia-Pacific covers China, India, Japan, South Korea and Rest of Asia Pacific. Rest of the World (RoW) covers South America, Middle East and Africa.
Key players of terahertz component and systems market include EMCORE Corporation, Digital Barriers Plc., Microtech Instruments Inc., NEC Corporation, Bridge12 Technologies, Inc., Digital Barriers PLC, Applied Research & Photonics Inc., M Squared Lasers Ltd, Bruker Corporation and Menlo Systems GmbH.
The key takeaways from the report
The report will provide detailed analysis of Terahertz Components and Systems Market with respect to major segments such as components, systems and applications type of the market.
The report will include the qualitative and quantitative analysis with market estimation over 2015-2024 and compound annual growth rate (CAGR) between 2016 and 2024.
Comprehensive analysis of market dynamics including factors and opportunities.
An exhaustive regional analysis of Terahertz Components and Systems market.
Profile of key players of the Terahertz Components and Systems market, which include key financials, product & services and new developments.
Scope of Terahertz Components and Systems Market
Component Type Segments
Terahertz Sources
Terahertz Detectors
Others
System Type Segments
Spectroscopy

Time-Domain Spectroscopy
Frequency Domain Spectroscopy
Imaging By Scanning
Terahertz Radar
Terahertz Sensing
Application Segments
Industrial Process Monitoring
Research Laboratory Application
Medical Imaging
Non Destructive Testing
Others
Geography Segments
North America
Europe

U.K.
Italy
France
Germany
Others

Asia-Pacific

China
India
Japan
South Korea
Others

RoW

South America
Middle East
Africa
---
GET MORE INFORMATION ABOUT THIS REPORT
---
Related Report