---
Global Commercial Avionics Market is estimated to reach $27 billion by 2024; growing at a CAGR of 4.1% between 2016 and 2024. Avionics consist of electro-mechanical and electronic systems used on aircraft, artificial satellites and spacecraft, which assist the pilots in safe and efficient operation of an aircraft. Avionics system comprises of communications, navigation, display system and many other systems that perform various functions. Modern avionics consist of advanced technology and software-intensive systems. For instance, modern avionics are highly used in Next Generation Air Transport System initiated by Federal Aviation Administration in the United States and the Single European Sky ATM Research (SESAR) initiated by Europe.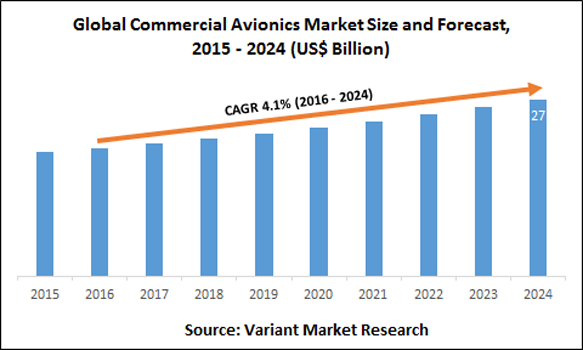 Increasing technological advancements in navigation systems, emerging economies in developing nations, and adoption of next-generation aircrafts are driving the growth of the market. Moreover, requirement for real time data and emergence of new players could also fuel the growth of the market. However, unstable economic problems and growing cyber threats could hinder the growth of the market. Desire for glass cockpits and untapped markets could provide an opportunity for this market.
The commercial avionics market is segmented based on the aircraft type, systems type and geography. Aircraft type is further segmented into fixed wing aircraft (very large aircraft, wide body aircraft and narrow aircraft) and rotary wing aircraft. Furthermore, systems type is segmented into integrated modular avionics, avionics full duplex switched Ethernet, cockpit systems, cabin systems, flight control & emergency, navigation, surveillance, electrical systems, communication systems, central maintenance systems and others.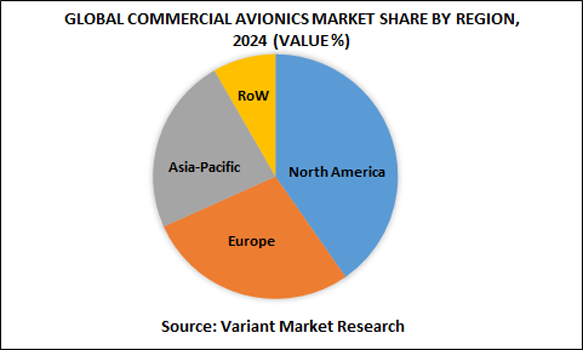 By geography commercial avionics market is segmented into North America, Europe, Asia-Pacific and RoW. The U.S., Mexico and Canada are covered under North America wherein Europe covers France, Germany, United Kingdom and others. Asia-Pacific covers China, India, Japan, Australia, Singapore and others. Rest of the world (RoW) covers South America, Middle East and Africa.
The key players in the market include Panasonic Avionics Corporation, Honeywell Aerospace, Universal Avionics System Corporation, United Technologies Corporation, General Electronics, L-3 Communications, Rockwell Collins, Diehl Aerospace GmbH, Astronautics Corporation of America and Curtiss-Wright Corporation, among others.
The key takeaways from the report
The report will provide detailed analysis of Commercial Avionics Market with respect to major segments such as aircraft type and systems type
The report will include the qualitative and quantitative analysis with market estimation over 2015-2024 and compound annual growth rate (CAGR) between 2016 and 2024
Comprehensive analysis of market dynamics including factors and opportunities is included in the report
An exhaustive regional analysis of Commercial Avionics Market will be provided in the report
Profile of the key players in the Commercial Avionics Market will be provided, which include key financials, product & services, new developments and business strategies
Scope of Commercial Avionics Market
Aircraft Type Segments
Fixed Wing Aircraft

Very Large Aircraft
Wide Body Aircraft
Narrow Aircraft
Rotary Wing Aircraft
Systems Type Segments
Integrated Modular Avionics
Avionics Full Duplex Switched Ethernet
Cockpit Systems
Cabin Systems
Flight Control & Emergency
Navigation
Surveillance
Electrical Systems
Communication Systems
Central Maintenance Systems
Others
Geographical Segments
North America
Europe

Germany
France
United Kingdom
Spain
Others

Asia-Pacific

China
India
Japan
South Korea
Others

RoW

South America
Middle East
Africa
---
Related Report
Small Arms and Light Weapons (SALW) Market Global Scenario, Market Size, Outlook, Trend and Forecast, 2015 – 2024


- November 2017

Directed Energy Weapons Market Global Scenario, Market Size, Outlook, Trend and Forecast, 2015 – 2024


- November 2017

Homeland Security Market (By Type: Aviation Security, Maritime Security, Border Security, Critical Infrastructure Security, Cyber Security, CBRN Security, Mass Transit Security and Others; By Geography: North America, Europe, Asia-Pacific and RoW) Global Scenario, Market Size, Outlook, Trend and Forecast, 2015 – 2024


- October 2017

Military Vetronics Market (By System: Control & Data Distribution Systems, Displays Systems, Power Systems, Vehicle Management Systems; By Type: Light Protected Vehicles, Infantry Fighting Vehicles, Armored Personal Carriers, Unmanned Ground Vehicles, and Armored Amphibious Vehicles; By Geography: North America, Europe, Asia-Pacific and RoW) Global Scenario, Market Size, Outlook, Trend and Forecast, 2015-2024


- July 2017

Military RADAR Market (By Type: Ground Based, Airborne, Space Based and Naval; By Geography: North America, Europe, Asia-Pacific and RoW) Global Scenario, Market Size, Outlook, Trend and Forecast, 2015-2024


- July 2017