---
Vitamin Ingredients Market Overview :
Global Vitamin Ingredients Market is estimated to reach $8,573 million by 2024; growing at a CAGR of 4.9% from 2016 to 2024. Vitamins are essential nutrients which contribute to a healthy life, including growth, digestion and nerve functions. There are 13 vitamins which are absolutely necessary such as vitamins A, C, D, E, K and B, thiamine, riboflavin and among others. Vitamins can be categorized into two: water soluble and fat soluble. Vitamin supplements are usually recommended by doctors for certain health problems, patient with vegan diet and pregnant or breast feeding women. Consuming too much of vitamins can also cause certain problems. Many toxic ingredients are also used in the manufacture of vitamins such as additives, traces of minerals, heavy metals and chemicals and among others. In June 2007, FDA has established dietary supplement current Good Manufacturing Practice (cGMP) regulations requires the manufacturers to evaluate their products through testing the identity, purity, strength and composition before selling it in the market. Moreover, the National Academy of Sciences, in the U.S. has listed the upper limits of intake of some vitamins and minerals that should not be exceeded during any given day.
Global Vitamin Ingredients Market Size and Forecast, 2015 - 2024 (US$ Million)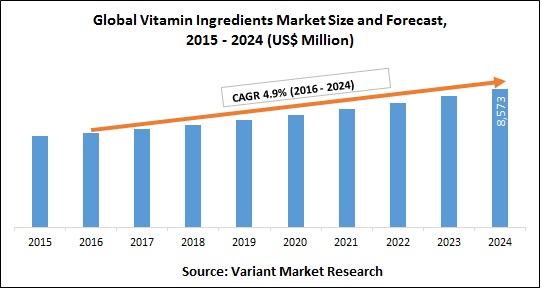 Increasing awareness for preventive measures among consumers along with growing geriatric population in many developed and emerging economies are the major factors supporting the growth of the vitamin ingredients market. Moreover, rising demand for vitamin added foods and cosmetics and government initiation for necessary intake of vitamins among children and pregnant women are also fueling the growth of the market. However, fortified foods and other supplements such as fish oils may hinder the growth of the market. Furthermore, e-commerce and entry of private labels offering their new brands with improved formulations, packaging and in-store consumer education would provide opportunity for growth in the upcoming years.
The global vitamin ingredients market is segmented based on the product type, application and geography. By product type, it is further segmented into Vitamin A, Vitamin B, Vitamin C, Vitamin D, Vitamin E and Vitamin K. Furthermore, applications are segmented into pharmaceuticals, food & beverages, cosmetics, animal feed and others.
Global Vitamin Ingredients Market share by region, 2024 (value%)

By geography, the global vitamin ingredients market is segmented into North America, Europe, Asia-Pacific and Rest of the World (RoW). The U.S., Canada, and Mexico are covered under North America wherein Europe covers U.K., Germany, Italy, France, Spain and others. Asia-Pacific covers China, Japan and others. Rest of the World (RoW) covers Middle East, South America and Africa.
Key market players of vitamin ingredients market include Bayer AG, BASF SE, Pharmavite LLC, Herbalife International, Inc., Archer Daniels Midland Co., Lonza Group Ltd., North China Pharmaceutical Corporation, Adisseo France S.A.S, Nutraceutical Corporation and Glanbia plc.
The key takeaways from the report
The report will provide detailed analysis of Vitamin Ingredients Market with respect to major segments such as product type and application
The report will include the qualitative and quantitative analysis with market estimation over 2015-2024 and compound annual growth rate (CAGR) between 2016 and 2024
Comprehensive analysis of market dynamics including factors and opportunities will be provided in the report
An exhaustive regional analysis of Vitamin Ingredients market will be included in the report
Profile of the key players of the Vitamin Ingredients market, will be provided, which include key financials, product & services, new developments, and business strategies
Scope of Vitamin Ingredients Market
Product Type Segments
Vitamin A
Vitamin B
Vitamin C
Vitamin D
Vitamin E
Vitamin K
Applications Segments
Pharmaceuticals
Food & Beverages
Cosmetics
Animal Feeds
Others
Geography Segments
North America
Europe

U.K.
Germany
Italy
France
Spain
Others

Asia-Pacific
RoW

Middle East
South America
Africa
---
GET MORE INFORMATION ABOUT THIS REPORT
---
Related Report