---
Smart Agriculture Market Overview :
Global Smart Agriculture Market is estimated to reach $20 billion by 2024; growing at a CAGR of 14.1% from 2016 to 2024. The agriculture industry will become more important than ever before in the new few decades. According to the United Nations Food and Agriculture Organization, about 795 million people out of 7.3 billion people in the world were suffering from chronic undernourishment in 2014 - 2016. Almost all the hungry people, about 780 million people live in developing countries and 11 million people undernourished in developed countries. Smart agriculture helps to guide actions needed to transform agriculture systems to efficiently support the development and ensure food security. Smart farming has good potential to deliver more productive and sustainable agricultural products with resource efficient approach. Moreover, introduction of IoT applications have increased the quality, quantity, sustainability and cost effectiveness of agricultural products. Robotics, artificial intelligence and automatic control at all the levels of agriculture have boosted the production in a great way.
Increasing population coupled with rising global demand for food and technological advancements are supporting the growth of the global smart agriculture market. Increasing need for automated farming techniques and greenhouse agriculture also fuels the growth of the market. Rising awareness among farmers in emerging economies and entry for new players would provide growth opportunities during the forecast period. However, lack of technical knowledge and high cost of smart devices or machines may hinder the growth of the market.
The global smart agriculture market has been categorized into solutions, application and geography. Solution segment include agriculture asset management, network management, supervisory control & data acquisition, smart water management, logistics & supply chain management, and others. Furthermore, application segment is bifurcated into livestock monitoring, precision agriculture, fish farming, smart greenhouse and others.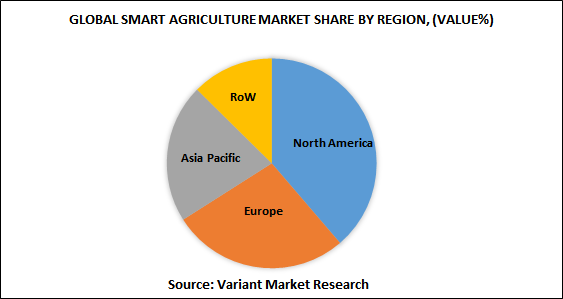 By geography, the market has been bifurcated into North America, Europe, Asia-Pacific and Rest of the World (RoW). The U.S., Canada and Mexico are covered under North America wherein Europe covers U.K., Germany, Italy, France and others. Asia-Pacific covers China, Japan, India and others. RoW covers South America, Middle East and Africa.
The key players in the smart agriculture market include Raven Industries Inc., Deere & Co., Trimble Navigation Ltd., AGCO Corporation, AgJunction Inc., SST Development Group, Inc., Hexagon AB, Iteris Inc., Teejet Technologies and Cisco Systems, among others.
The key takeaways from the report
The report will provide detailed analysis of Smart Agriculture Market with respect to major segments such as solution and application
The report will include the qualitative and quantitative analysis with market estimation over 2015-2024 and compound annual growth rate (CAGR) between 2016 and 2024
Comprehensive analysis of market dynamics including factors and opportunities will be provided in the report
An exhaustive regional analysis of Smart Agriculture Market has been included in the report
Profile of the key players of the Smart Agriculture Market, will be provided, which include key financials, product & services, new developments and business strategies
Scope of Smart Agriculture Market
Solution Segments
Agriculture Asset Management
Network Management
Supervisory Control & Data Acquisition
Smart Water Management
Logistics & Supply Chain Management
Others
Application Segments
Livestock Monitoring
Precision Agriculture
Smart Greenhouse
Fish Farming
Others
Geography Segments
North America
Europe

U.K.
Germany
Italy
France
Others

Asia-Pacific
RoW

South America
Middle East
Africa
---
GET MORE INFORMATION ABOUT THIS REPORT
---
Related Report